These are the books we referenced over and over during the first few months with our new baby, and I share them here to help others sift through the overwhelming amount of information out there. Read them all you want prior to having the baby, but trust me, you won't remember much, lol. They are best to just have on hand for after the baby arrives. That's why I call these the top 5 "reference" books and not "study" books.
The Baby Book by Dr. Sears – Our favorite book with philosophies that felt right to us regarding skin-to-skin contact, baby wearing, night-time parenting, and more covered in a very loving and informative way. But note, take what works for you and the baby -- for example, our baby didn't take to baby wearing much the first year of his life. Note: There's a new addition as of 2013.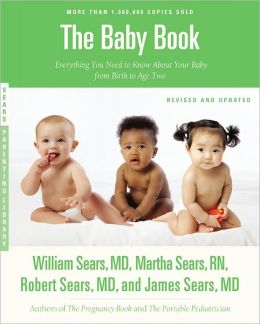 The Baby Book 2013 Edition
What to Expect the First Year by Heidi Murkoff – This book was given to us, and we thought it might be too mainstream to be useful, however, when you need simple information fast (even just a sentence to validate you didn't do something wrong), this book delivers. For example, we needed to know if a baby would blow up if breast milk and formula were mixed, and nope, they won't. In the moment, that was very important information for us to have, and so we recommend this book for quick answers needed in desperate moments.
Caring for Your Baby and Young Child, 5th Edition: Birth to Age 5 by Steven Shelov / American Academy of Pediatrics – It's a good idea to have a medical book on hand. A friend gave us an older version of this book, and it saved us with some direct medical questions that came up in the middle of the night regarding temperatures, constipation, etc. It's also a great book for cross-referencing medical info from other sources, like the Internet, healthcare providers, etc.
Healthy Sleep Habits, Happy Child by Marc Weissbluth – This was our bible while trying to figure out the sleep thing. The best part about it is that it covers the science of sleep and offers different options in addition to and including the cry-it-out method. Have it on hand FOR SURE!
(Side note about a sleep book we don't recommend: Babywise--we don't recommend this book, because the way the "cry-it-out" method is covered is too simplistic and narrow and does not work (and/or isn't right) for all baby types and parents. The way the method was covered in this book didn't work for our baby. An optional similar method is covered in the above book Healthy Sleep Habits, which provides much more comprehensive, research-based information.)
The Happiest Baby on the Block by Harvey Karp – Watch this in DVD format before and after your baby is born to get great tips regarding incessant newborn crying.
Bonus recommendations:
Secrets of the Baby Whisperer by Tracy Hogg – This is the one book that wasn't really a reference book. We read it once (actually I downloaded it for free as an ebook from the library and listened to it quickly). It has some great, practical ideas that have stuck with me throughout our baby sleep experience. For example, it presents the E.A.S.Y. method sleep routine, which we applied to create our own routine. And also beneficial in this book is a great way to speak with your baby, constantly and lovingly and the benefits.
Baby-Led Weaning: The Essential Guide to Introducing Solid Foods
by Tracey Murkett and Gill Rapley – A must read on introducing solids. (1), Don't introduce solids until 6 months (for so many reasons covered in this book), and (2), this book will give you confidence and know-how regarding those early months of feeding. And don't forget to just apply whatever works for your family. Where this book focuses on never having to make purees, that was a little extreme for us, so we did both—purees and non-pureed-solids. Believe me, it takes some skill (and strength) to watch and support your baby learn about their swallow vs sucking instinct when starting solids; there will be gagging and parental fear, but this book will help.
IMPORTANT NOTE: The key to reading any book, working with any professional, or source of information is being able to synthesize what you learn and apply it to your situation and what works for your family. In most cases, there is never one answer, so seek information, listen to your heart, and do your best--that's what matters the most. As a matter of fact, that's parenting.